Library & Resources
Knowledge is power and implementation is a step by step process. These books are available from us for loan or purchase.  Please Contact Me button  to pick them up.
Books on Healing Trauma
Please put "healing trauma" as the first book, followed by waking the tiger and then Nurtruing Resilience. Freedom from pain at the bottom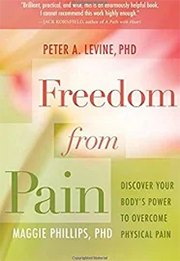 Freedom from Pain
by Maggie Phillips
If you are suffering chronic pain—even after years of surgery, rehabilitation, and medication—only one question matters: How do I find lasting relief? With Freedom from Pain, two pioneers in the field of pain and trauma recovery address a crucial missing factor essential to long-term healing: addressing the unresolved emotional trauma held within the body.
Informed by their founding work in the Somatic Experiencing® process and unique insights gleaned from decades of clinical success, Drs. Levine and Phillips will show you how to:
Calm the body's overreactive "fight" response to pain
Release the fear, frustration, and depression intensified by prior traumas, and build inner resilience and self-regulation
Relieve pain caused by the aftermath of injuries, surgical procedures, joint and muscle conditions, migraines, and other challenges
Whether you're seeking to begin a self-care strategy or amplify your current treatment program, Freedom from Pain will provide you with proven tools to help you experience long-term relief.
---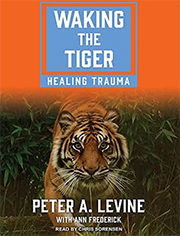 Walking the Tiger, Healing Trauma
by Peter A. Levine
Waking the Tiger was the book that changed my life after I read it.  After reading the symptoms of trauma and how the body holds the imprints of both shock and developmental trauma my health and life began to have a new and hopeful vision of healing.
---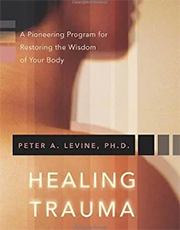 Healing Trauma
by Peter A. Levine
I encourage many of my clients to have this book on hand to deepen their understanding of how events affect the nervous system, and learn ways to setttle the nervous system lifelong symptoms ranging from anxiety and depression to unexplained physical pain, fatigue, illness, and harmful "acting out" behaviors. Somatic Experiencing® methods to actively overcome these challenges.
"Trauma is a fact of life," teaches Peter Levine, "but it doesn't have to be a life sentence."
---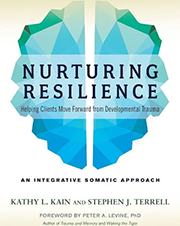 Healing Trauma
by Kathy L. Kain and Stephen J. Terrell
Kathy L. Kain and Stephen J. Terrell draw on fifty years of their combined clinical and teaching experience to provide this clear road map for understanding the complexities of early trauma and its related symptoms. Experts in the physiology of trauma, the authors present an introduction to their innovative somatic approach that has evolved to help thousands improve their lives. Synthesizing across disciplines–Attachment, Polyvagal, Neuroscience, Child Development Theory, Trauma, and Somatics–this book provides a new lens through which to understand safety and regulation. It includes the survey used in the groundbreaking ACE Study, which discovered a clear connection between early childhood trauma and chronic health problems. For therapists working with both adults and children and anyone dealing with symptoms that typically arise from early childhood trauma–anxiety, behavioral issues, depression, metabolic disorders, migraine, sleep problems, and more–this book offers fresh hope.
Recommended Apps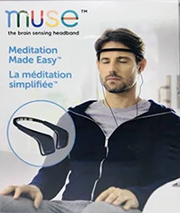 Muse: The brain sensing headband

Muse is your personal meditation assistant.
Sometimes your mind is calm and sometimes it's active. Muse will guide you to a calm mind.
Put on the Muse headband, put on your earbuds, start the app, and close your eyes. Immerse yourself within the sounds of a beach or rainforest.
While you meditate, Muse measures whether your mind is calm or active, and translates that data into weathers sounds.
When you're calm, you'll hear peaceful weather sounds. When your mind wanders, the weather will intensify, guiding you back to a calm state.
After each session, review your data, set goals, and build a deeply rewarding meditation practice that gets better every time.
Kindly refer to the User Manual, FAQs, and Tech Specs for more information.
---
---
Waking Up : by Sam harris
For more information visit the App Store